Toyota Finance Center
In exciting communities such as Newtown, Levittown, and Langhorne, it's important that you have reliable transportation, which means you need to purchase a high-quality vehicle from a dependable dealership. If you're ready to browse our Toyota of Langhorne inventory and then invest in your next automobile, you need to secure your financing, which is easier than ever before, thanks to the finance center at Team Toyota of Langhorne.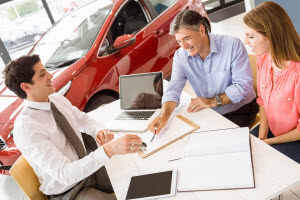 Our financing professionals are friendly, compassionate and, most importantly, helpful. With our team on your side, you can get the financing you need for your next automobile! Learn more about the benefits of working with our finance center and find out how our team can help you apply for a great auto loan.
Finding the Right Loans
Most people purchasing a vehicle, whether new or used, will need an auto loan. However, if you've never applied for a loan before, or if it's been awhile, it's important to get help from an experienced financing team.
When you visit the finance center at our dealership, you'll be able to get the help you need to find a loan that fits you. Our financing experts will help you negotiate a loan that meets your specific budget. With us on your side, you'll be certain to get a loan that fits you like a glove.
Payment Advice
Every car consumer deserves a payment option that matches their exact needs, and while purchasing is the right choice for most drivers, others may benefit from leasing a vehicle. If you're not sure whether buying or leasing is the right option for you, our financing team is here to help with your decision.
Sit down with one of our professionals, and you'll be able to learn more about both buying and leasing, including how leasing a car can provide you with lower monthly payments. After a quick conversation, you should be able to decide whether a lease or loan fits you and your lifestyle.
Our Credit Experts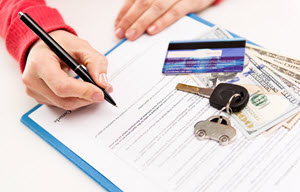 Any experienced car buyer knows that the key to securing fair loan options is a favorable credit score. And at our dealership, we believe that everybody deserves a reliable car, and our financing team is ready to help customers with all levels of credit.
If you have questions about your credit score, you can schedule an appointment with our finance center to discuss the best way to get the loan you need. With us on your side, you can finally get behind the wheel of a top-notch car, SUV, or truck.
Visit Our Finance Center
Securing your financing is the most important part of purchasing your next vehicle, and if you need help applying for an auto loan or lease, you should be sure to visit the finance center at Team Toyota of Langhorne.
Our financing professionals are focused on helping our customers find auto loans with attractive terms, and they can easily help you finance your dream vehicle. Schedule an appointment with our financing team today so that you can start driving around Newtown, Levittown, and Langhorne in a world-class automobile.